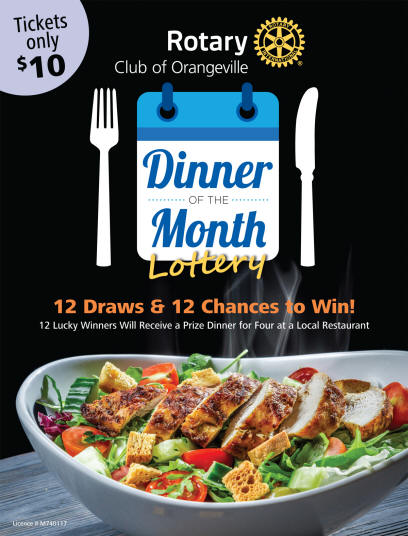 12 Draws and 12 Chances to Win
For $10 RCO's annual Dinner-of-the-Month lottery gives ticket holders 12 chances to win a dinner for four at a local restaurant. This year the 12 participating restaurants are the Barley Vine Rail Co., the Black Birch Restaurant, the Bluebird Café, David's, Forage, the Globe Restaurant, iNaka, the Mill Creek Pub & Restaurant, the Millcroft Inn & Spa, the Mono Cliffs Inn, Ray's 3rd Generation Bistro Bakery and Steakhouse63. Lottery proceeds will be shared with our selling partner Friends of Island Lake; funds raised by RCO will be directed to Rotary and community charities.
For tickets please contact rotarycluboforangeville@gmail.com.
Operates under license number M740149.
Our lottery winners to date are:
October Early Bird DrawsMarie Vandersterre, Sandra MurphyNovemberIngrid Sproxton, Dinner for 4 at Steakhouse63 in OrangevilleDecemberNadine Meek, Dinner for 4 at Bluebird Café in OrangevilleScott Hughes, Dinner for 4 at Millcroft Inn & Spa in AltonJanuaryBill Patterson, Dinner for 4 at Barley Vine Rail Co. in OrangevilleFebruaryCaitlin Bell, Dinner for 4 at David's Restaurant in ErinMarchRachel Blaine, Dinner for 4 at iNaka Japanese Restaurant, Caledon VillageAprilStephanie Levy-Self, Dinner for 4 at Mono Cliffs Inn, MonoMayMary Smith, Dinner for 4 at the Black Birch Restaurant, MonoJuneAnastasia Bonk, Dinner for 4 at Ray's 3rd Generation Bistro Bakery, Alton